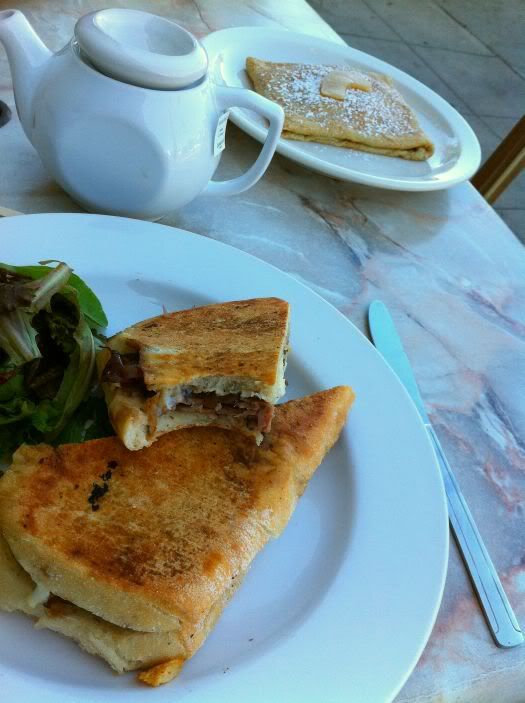 I got the idea from this post from miss Kyla Roma, here. :) Thanks girl!
Ingredients for my happy week to come:
~The memory of the
pear crepe
I ate yesterday. I thought after the end of
Babbo
there would be crepes no more.
Wrong
...
Delish
!
~Knowing how
happy
almost all of my
plants
are now. After I went out to water yesterday evening, I spontaneously decided to start
re potting
and moving them all into more comfortable spots. My bamboo that Shawn rescued from the side of the road has
grown
from three feet to seven or eight! And my little mint plant is thriving even with whatever bug has been feasting on it. My ferns- they make me so happy! So lush and beautiful.
~How much
my wonderful family
loves me. I was REALLY bummed because I was going to have to forgo my Thanksgiving and Christmas visits that I've been looking forward to all year in order to save to have an engine rebuilt for my Mustang. BUT in comes my
brother
Nick
to say that my not coming is absolutely unacceptable. He helped me find a much cheaper ticket for
Thanksgiving
, and if I can't afford one for Christmas they are going to pitch in and help me out! I feel so loved it's not even funny. And
so
excited to be able to see them for a week at a time with
only three weeks between visits
!
~Yoga, and being able to do it
at home
, whenever I please.
Yoga
is such a wonderful release. In many ways!
~The fact that I've
weaned myself from caffeine
and only have it when I really want some. I still want my tea every morning, but I get just as much satisfaction from my decaf English Breakfast now.
~A
good old friend
who is visiting for the month and knows all about cheese is going to take me on a
cheese shopping
and education expedition this week! (And of course we'll be eating our loot later this week with wine :)
~The
research
I did on skin conditions and immunity. I've never had digestion problems with grains really, it's the sugar that gets me. But consuming grains messes with our skin like whoa. I never thought of that! So I am beginning a journey to
substitute vegetables for grains
, and at least use sprouted bread for my morning toast now.
~Feeling like I'm
back in the drivers' seat
. All last week and weekend I was stressed to the max about my work situation. And then I realized even with limited options, there is budge room. I can
make it what I need it to be
, even if it's in small increments. I can't be everything and do everything. But I don't have to to be successful. I don't have to just take it when people place unrealistic
expectations
on me and don't fulfill their promises!
~The
fun business
my plp is going to start up, and the fact that I can help her!
What are the ingredients for your happy week?