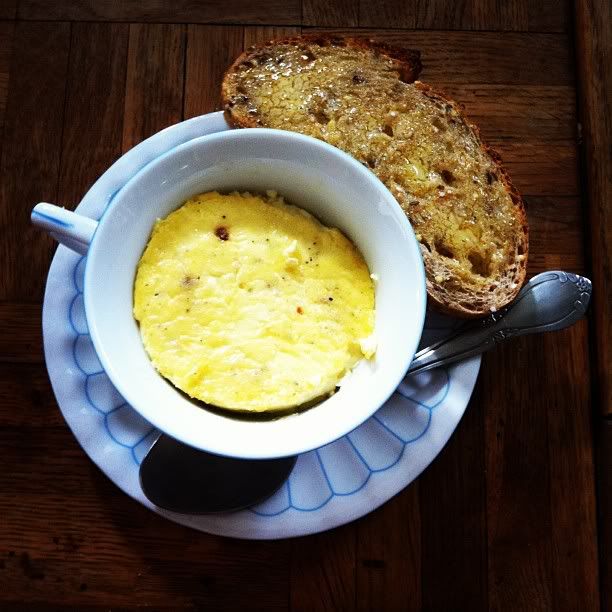 I
crave the savory custard du jour at
Cafe Chloe
whenever I want a comforting breakfast.
Well, after ordering two yesterday, eating the leftovers for dinner, and still wanting more this morning,
I decided enough was enough. Time to learn to make it for myself!
I checked out a bunch of recipes and settled on the simplest one, with the
snarkiest delivery
.
It turned out fabulously. I made two- one is never enough!
My only fret is that they didn't brown as much as I would have liked,
and if I had left them in longer the fluffy texture would have been lost.
I think I'll get a creme brulee torch!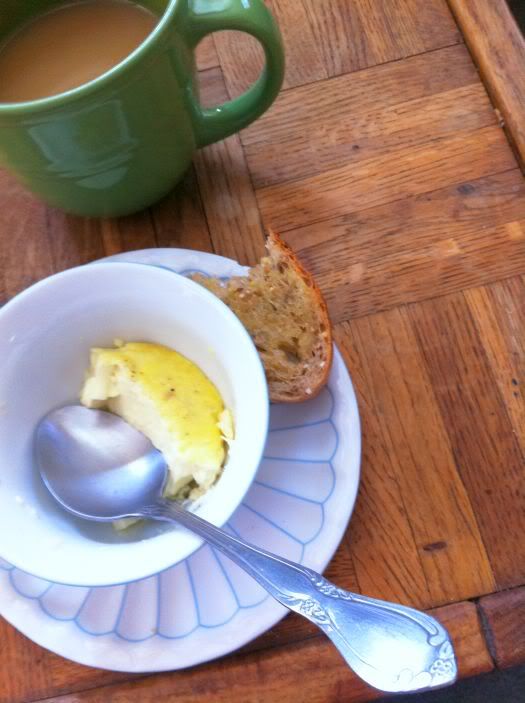 H
ere's what I did:
Heated my oven to 300. Put a glass casserole dish with an inch of water in it into the oven.
Greased a muffin tin with olive oil.
Put the milk, salt, pepper, onion granules, and fresh sage leaves into a saucepan.
Let it boil (oops! you're not supposed to do that, but I caught it in time to not scorch the milk)
and then took it off the heat to rest for a few minutes.
Separated the egg yolks into a mixing pitcher.
Added the milk to the eggs, then dumped some shredded mozzarella in.
I didn't bother straining the sage leaves out because I like them!
Poured it into two of the muffin cups, sprinkled it with shredded parmesan,
and set that carefully into the dish of water in the oven.
And waited, impatiently. I set the timer for 30 minutes,
then ended up resetting it for two more minutes several times.
V
oila! It scooped out of the muffin tin beautifully, and it was oh-so-savory and delectable!
Especially with some fresh whole grain bread.
Tip: you need less salt (and flavorings in general) than you think you do.
It's such a fabulously rich food, it doesn't need much.
I can't wait to make it with cherry tomatoes! And sausage! Ooh and squash..
the possibilities are endless!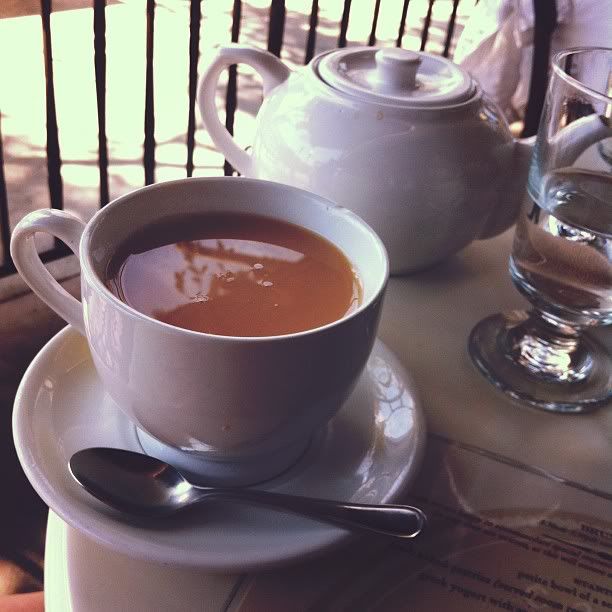 (Don't worry Cafe Chloe, I'll still be around! You have lots I still want to try,
and you steep my favorite Lavender French Breakfast tea to perfection! ;)
P.s. Aren't the cute little blue and white teacups/saucers my mom gave me a couple birthdays ago just fabulous??